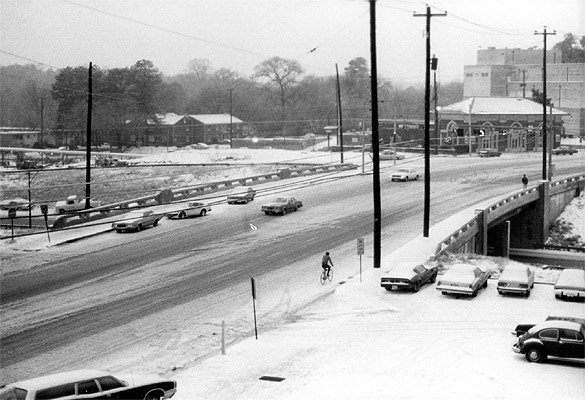 First I have to preface this story by saying that while Atlanta does receive snow and/or ice storms on a regular basis, we do not by any means have the equipment or systems in place that the Northern states possess. When snow comes as it did that fateful January afternoon, chaos will ensue.
January 12, 1982. At that time I was working Buckhead for the radio station WGST-AM and WPCH-FM as the receptionist. I lived off of Cheshire Bridge and Lenox Road, and attended classes downtown at Georgia State, along with my sister who lived in Stone Mountain. I will try to insert an Atlanta metro map so everyone can understand the distances involved in this story.
We had been in a cold snap for several days, and while the forecasts all called for snow, the details continued to be sketchy that afternoon when I went to the news director to ask what I should be telling people. He gently turned me around to the full wall of windows, which were open and currently displaying snow falling in buckets.
"I think you should tell them to either go home, or wait it out wherever they are." The look on his face told me the news room was in for a very long night.
My boyfriend was safe at home in Marietta, and my family lived in College Park. By the time I left work at 5:00pm, it was obvious that every mile was going to be a fight. From my work to my apartment was a ten minute drive in rush hour traffic. That night it was after 7:30 before I slid into my parking space, grabbed my food and drink from Happy Herman's next door, and struggled into our ground floor apartment.
The snow continued until the pizza and beer was finished, so I went off to bed, wondering what I'd awake to find. Alas, our 1950's era apartment wasn't adequately prepared for the deep freeze that came that night after the worst of the snow ended. Sometime in the wee small hours of the morning, a pipe burst between our kitchen ceiling and the upstairs unit's kitchen. By the time my roommate and I awoke to the sound of a waterfall, the damage was done. Our power was out, the apartment was flooded, and work sent a 4x4 to pick me up to come answer the phones.
Answer the phones! God, what an understatement. For six hours I sat there with a list of closed businesses and standard responses, dealing with eight incoming lines of people frantic to know if the weather was getting worse or better, people trying to contact loved ones (this was pre-cell phone days), and companies calling in to let us pass on the information they were closed. It was a six hour non-stop phone call of hysteria, and it took an act of sheer desperation to be allowed to leave.
Said boyfriend managed (after two hours) to make it to the radio station. I was offered a hotel room with the others at a local establishment, but my parents had not heard from my sister, and they wanted us to head out to Stone Mountain to find her. After receiving permission from the station manager off we set for the wilds of DeKalb County.
There are two things about Atlanta that make driving in the snow a very poor idea. First - we tend to start our snow events with ice, which becomes black ice very quickly. Black ice is completely clear and covers asphalt roads like latex clings in bathing suits. So underneath our four or five inches of snow there lay a solid inch of natural hockey rink ready to play bumper cars at a moments notice.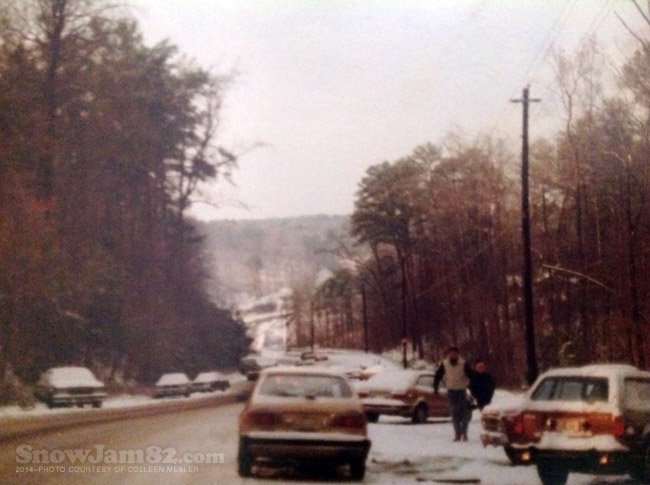 The second thing is - Atlanta has more rolling hills and sharp curves than Dolly Parton, and when they are in any condition other than drier than the Sahara desert, they are slicker than snot on a door knob. Couple the terrain with the decided lack of snow removing, snow blowing, or snow melting equipment owned by either State or Local government, and we had ourselves a good old fashioned storm.
People were stranded in their cars for hours, sometimes moving inches at a time before either abandoning them wherever they were, or running out of gas and beginning to walk. Gangs of high school and college students made fortunes by pushing cars up hills or around obstacles. Others sold beer or helped people walk to the closest warmth, be it a bar or a nearby apartment. For that January night, we were a society of compatriots, brought together by the vagaries of nature and the lack of technology in 1982.
It took the BF and I almost three hours to go from Buckhead to Stone Mountain and another hour to get to my sister's house off Rockbridge Road. She was there, but their power had gone out early, and even the phone lines were down somewhere up the line. But she was alright, and we drove to the gas station so we could call our parents. Then we returned to her place and proceeded to play games and drink until we passed out.
Two days later the roads were considered passable by the Georgia Dept of Transportation. My apartment pipes were fixed, though the mess lingered on, and I returned to the receptionist desk .As life attempted to return to normal in Atlanta. The city learned a lot from that mess, Not! 34 years later we would again be subject to a fast moving low coming in hot on the heels of a frigid spell. Sure enough, everyone tried to leave work at the same time, and the same Jam from 1982 brought us all to realize:
The worst drivers in the city are all transplants from somewhere else. See, the rest of us learned: when snow and/or ice is mentioned in the forecast, grab bread and milk from the grocery store, stock up at the package store, and sit back and watch all the Northerners laugh at the way we drive as they pinwheel gently down the road, over the curb and into a tree.
- all photo credits to www.snowjam82.com.